Undertaking a home renovation can be exciting, especially when thinking about how it will impact your home's value. However, it can be difficult to know where to start and who to ask for help. To make the most of your home renovations, follow these tips to help you save while renovating. But first, here's a deeper dive into why it's a good idea to upgrade your home so that it's ready to sell in the Cleveland, Ohio, real estate market.
Cleveland, Ohio
, is a lively urban city that offers a variety of neighborhoods, each with its own sense of character and charm. With highly-rated schools, close proximity to Lake Erie's shoreline, and plenty of excellent food and entertainment options, this is a highly sought-after location for real estate investing. With this in mind, the real estate scene here is popular. As a seller, there are certain steps you can take to make your home look its very best and stand out on the market. Here's how to renovate your home to sell.
Research first
When taking on a big project like a home renovation, it's important to
research before beginning
. If you aren't sure about the state of the property you're looking to flip or upgrade, hire a professional to inspect the home. Then decide if the number of repairs the home needs will stack up well against the price of any additional renovations you're planning to make.
Also, begin researching different options for professionals you may need to complete the process, like a contractor or designer. Plan to interview more than one candidate, and keep in mind your own goals for the process. If you're a new house flipper, then search online for resources and people who are well equipped for the job. Figure out how much the services you need usually cost, then make your decision accordingly. Your Cleveland, Ohio, real estate agent can give you recommendations and referrals for professional renovators as well.
Plan out the process
Not having a plan before beginning renovations can result in costly mistakes.
Make a list
of what you need and want out of the home renovation, then edit the list to tasks that are feasible to complete within your time frame and budget. These plans will look different depending on the type of property you're renovating.
Single-family detached homes
are the most common housing type in Cleveland, so plans for a backyard or a large kitchen will be different than if you're renovating a smaller property like an apartment complex or a condo.
It's also important to complete home renovations in the correct order to avoid backtracking on your progress. Start with large tasks first, like stripping walls and flooring and improving the property's structure. Then move on to improvements with wiring, plumbing, and heating. After that, you can start plastering, re-flooring, and painting walls. Then, what's left is redecoration aspects in areas like the home's kitchen and bathroom.
Create a budget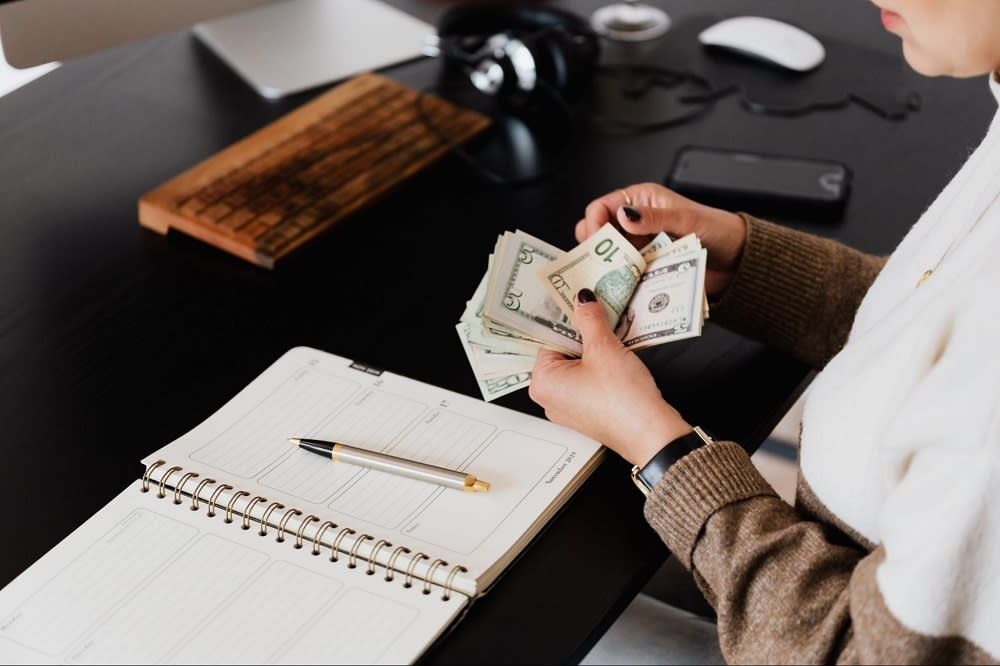 Photo courtesy of Pexels

House flipping costs can pile up if you aren't careful, but by creating a budget and sticking to it, you can prepare for and manage costs. There are several ways to save while renovating, but ultimately, setting a limit for yourself will help you stay within your set boundaries. One way to conceptualize the price of home renovations is to think about how much each room accounts for the property's overall value. Also, budget for any unexpected costs that may arise, like wiring or plumbing issues that are necessary to repair before listing the home.
Think about materials
One way to cut costs in the home renovation process is to think about the materials you're using. For example, you can keep the high-class, elegant look of hardwood flooring in areas like the living room and kitchen but then choose less expensive materials, like tile and vinyl flooring, in the bathrooms or mudroom. A contractor can help you think of alternatives that look expensive without going over budget.

You can also reuse materials already in the home, like moving cabinet fixtures somewhere else. Reclaimed materials can be another alternative for people looking to renovate. Again, your contractor is a good resource for finding reclaimed materials from other projects they're working on, like a leftover wooden door or a unique hardware piece for a kitchen or bathroom. Also research architectural salvage companies in the area.
Renovation ideas for the kitchen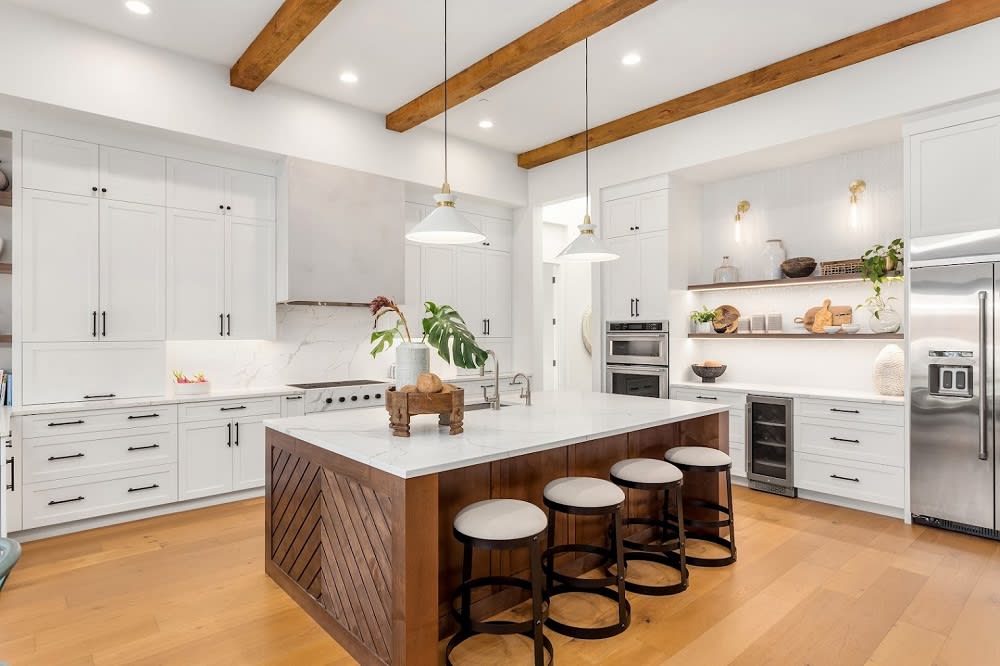 Photo courtesy of Shutterstock
One of the best places to renovate in the house is the kitchen, as it usually results in a positive ROI. You don't have to tear up the space to make a profit; there are
plenty of ways
to make the space look fresh and new. If you're renovating a small space, upgrading countertops is a great investment. If your countertops are already in excellent shape, then adding a modern backsplash with an interesting pattern or color can increase the visual interest of the room for a relatively low price. If your kitchen has plenty of open space, buying a high table and some stools is a good way to utilize the space by creating a faux island.
Renovation ideas for the bathroom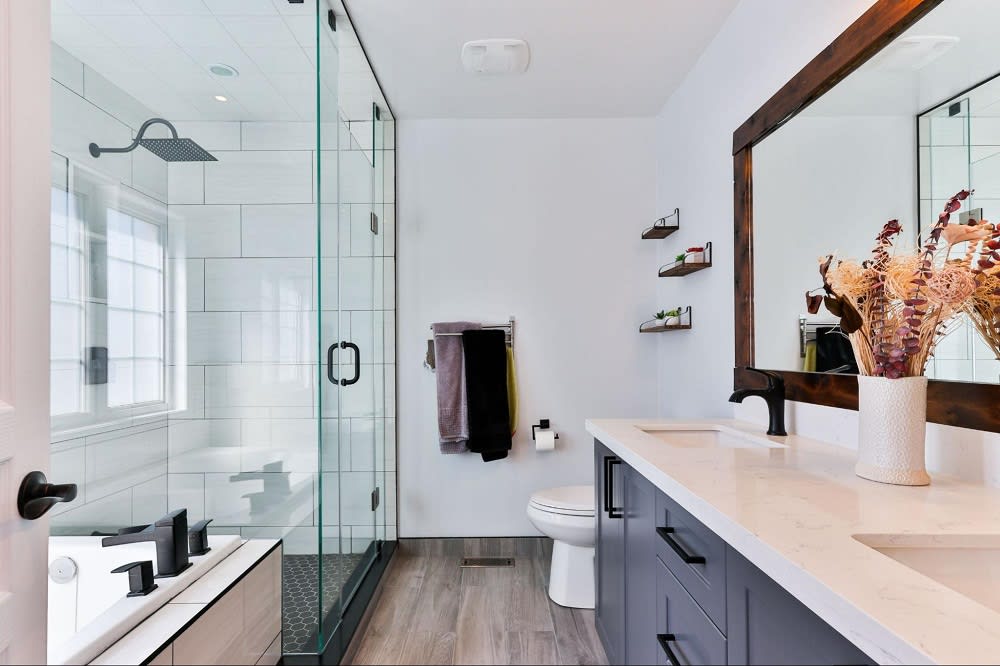 Photo courtesy of Unsplash

The bathroom is another area of the home that is usually worth the investment. One way to create a newer look is to change the hardware on the cabinets. Opt for something more modern, and make sure it's in proportion with the cabinet's size. Replacing an old plastic medicine cabinet with a nicer, mirror-fronted one can up the style and storage space in the area. Also, consider adding other storage areas, as buyers of homes for sale in Cleveland, Ohio, may appreciate a bathroom's extra space to keep beach towels and bags for trips to places like Huntington Beach or Edgewater Park.
Ready to renovate your Cleveland, Ohio, property?
With these planning and renovation tips, the upgrades to your home will have their desired effect. If you're interested in selling your home or getting some advice on the most worthwhile renovations to tackle next, contact
Wendy Poltorek Dickson
of CPD Homes for expert guidance through the process. Since 2012, this powerhouse real estate team has been helping sellers get the highest offers for their property. You could be next!

*Header photo courtesy of Pexels